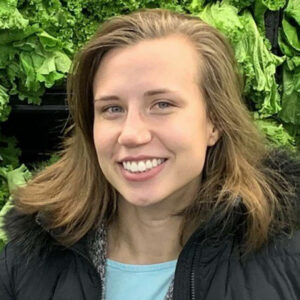 The Adult Day Center's Ashley Differt has been named president-elect of the Wisconsin Therapeutic Recreation Association (WTRA), an organization established in 2018 by a group of recreational therapists to advance the field of therapeutic recreation through professional development, education, advocacy, resources and support.
Differt is a Certified Therapeutic Recreation Specialist (CTRS) who earned her undergraduate and graduate degrees in therapeutic recreation from the University of Wisconsin-La Crosse. She'll take on her official role as president of the Wisconsin Therapeutic Recreation Association in June for 2023-2024.
Therapeutic recreation is a systematic process which utilizes recreation, leisure, play and other activity-based activities to address the needs of individuals with disabilities or illnesses. The goal is to promote psychological and physical health, recovery and overall well-being.
Differt said working as a recreational therapist involves "wearing many hats that include 'therapist', 'coach', 'friend', 'support', 'comedian', 'caregiver' and more, depending on the needs of the day!"
"RT is awesome and super meaningful to me, and at the heart of it is the inclusivity of leisure, recreation, and play for all," Differt said.
As president of the WTRA, Differt will hold monthly board of directors meetings, coordinate board trainings, and attend the American Therapeutic Recreation Association (ATRA) conference in St. Louis, Missouri and the Midwest Symposium on TR as a representative of WTRA. She'll also attend bi-monthly Joint Task Force for Licensure Meetings conducted by ATRA as Wisconsin prepares to pursue licensure for recreational therapists in Wisconsin.
Some of Differt's goals include increasing WTRA membership by 50%, holding a conference to offer continuing education approved by the National Council of Therapeutic Recreation Certification, provide networking opportunities, maintain active committees and reinstate the organization's non-profit status.
For more information on the WTRA, visit https://wtra.wildapricot.org/.