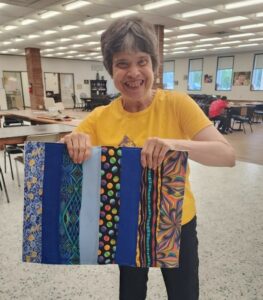 There's a well-loved adage which says, "When God closes a door, he opens a window." It reminds us that our paths may not take the route we anticipate, but that life has a way of working out.
Patty, a participant at Community Connections, is a great example of finding joy and purpose in an alternative path.
Before coming to Community Connections, Patty participated in another day program for adults with disabilities for many years and enjoyed it. She and her family expected that she would continue there, but life had something else in store.
One day, Patty had a terrible accident resulting in a knee injury. While she was recuperating, it was determined that she might be better served through one-on-one support. For the next several years, she had two individual caregivers who supported her and helped her stay active. She delivered meals through Meals on Wheels and found other ways to engage with her community, but she was missing out on socializing with her peers and building friendships.
The COVID-19 pandemic put an end to a lot of the activities Patty was doing during that time, as it did for so many people. When life started to return to normal and programs were restarting, Patty's family reached out to Community Connections to see if they had an opening for her. They knew she needed a change, a chance to meet new people and enjoy new experiences, and they thought Community Connections would be the perfect solution.
"Everyone at Community Connections is amazing," said Mary Zimmerman, Patty's sister. "Patty has gained so much confidence."
Mary said there have been huge changes in Patty since she joined Community Connections. She credits these changes to the program's focus on taking participants on outings throughout the week and the friendly, welcoming culture among staff and other participants. And, in her opinion, it's good for the community too.
"We really wanted her to be out in the community and to show people that someone with Patty's limitations can do so many things," Mary said.
Susan Eler, the program coordinator for Community Connections, said the philosophy of the program is simple – people blossom when you give them the opportunity and tools to do so.
For Patty, life's path may not have traveled the direction she thought it would, but she's certainly making the most of her journey.
"We are just so thrilled she is there, and I hope she can be there for many years to come," said Mary.