MADISON, Wisconsin – Catholic Charities of Madison, the charitable arm of the Diocese of Madison, this week announced the hiring of James Debilzen as director of communications and marketing.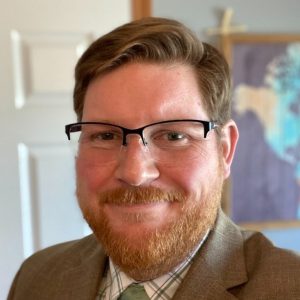 Debilzen comes to Catholic Charities from Associated Builders and Contractors (ABC) of Wisconsin, a statewide construction trade association based in Madison, where he had served as a marketing and communications specialist since 2018.
"We're thrilled to have James join our team," said Shawn Carney, executive director of Catholic Charities of Madison. "He brings a level of expertise to our organization that will help us reach those in need of our services and those who wish to support our mission to help the marginalized in our communities."
Before working for ABC, Debilzen served as the communications director for the Wisconsin Newspaper Association (WNA) and as a reporter, editor and circulation director for several newspapers in South Central Wisconsin. He graduated from the University of Wisconsin-Whitewater in 2007 with a Bachelor of Arts degree in journalism.
Debilzen lives in Fort Atkinson with his wife and their four children. He is an active parishioner of St. Joseph Catholic Church in Fort Atkinson.
Catholic Charities Madison is a private 501(c)(3) non-profit affiliated with Catholic Charities USA (a national organization which supports local agencies in disaster relief efforts). We have served individuals and families in the 11 counties of the Diocese of Madison since 1946. Our Mission is to provide high-quality, culturally competent social services to people who are most vulnerable in our communities. Catholic Charities offers professional expertise and compassionate care for people of all ages who deal with crisis and mental health issues, face transitions in life, reach for their potential despite challenges, and need help with abuse, addiction and homelessness. We serve all and employ all, regardless of religion, ethnicity, race or social background.