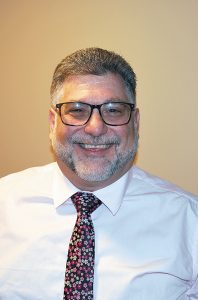 MADISON, Wisconsin – Catholic Charities of Madison, the charitable arm of the Diocese of Madison, announced today the appointment of Michael Wick to its board of directors.
Wick serves as the chief of staff for the Diocese of Madison, a role he began earlier this summer. He came to Madison from the Diocese of Gary, where he served as chief of staff for the past five years. He also previously served as executive director and director of operations with the Institute on Religious Life.
"I'm very excited to have Michael on our board," said Shawn Carney, executive director of Catholic Charities. "He brings many years of experience that will be valuable to Catholic Charities as we build upon our mission, living out the Gospel's call to serve those on the margins."
Catholic Charities of Madison is a private 501(c)(3) non-profit affiliated with Catholic Charities USA. We have served individuals and families in the 11 counties of the Diocese of Madison since 1946. Our 20 programs span 11 counties to help those who are aging, living with a disability, experiencing mental health challenges, homelessness, and provide individual and family counseling, mobile food pantries in rural communities and drug and alcohol addiction treatment. Catholic Charities of Madison follows Christ's call to demonstrate love through acts of compassion and justice throughout Southern Wisconsin, guided by the principles of Catholic Social Teaching.