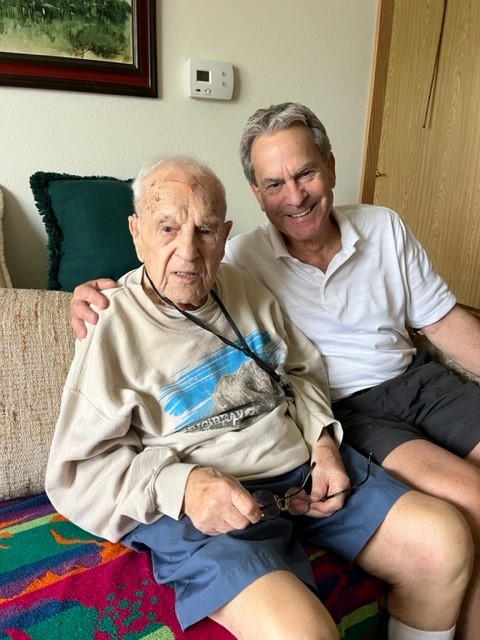 By Lindsey Hill | Grants Specialist
Living for a whole century is quite a milestone. Even with all the advances of modern medicine, centenarians are still quite rare. So, when I learned Catholic Charities was serving a 105-year-old man through our Care Team Ministry, I knew we had to share his story.
On the day that I arrived for the interview, I checked in at the All Saints Neighborhood Assisted Living front desk with a staff member, who, upon learning that I was there to meet Frank, exclaimed, "Oh, you're gonna love him!"
As I made my way down the hall to Frank's room, I steeled myself for the challenges I might face in interviewing someone who had lived as many years as he had. I had been forewarned Frank was hard of hearing and was starting to have some memory issues. Frank's son, Jon, met me outside his room and encouraged me to start talking and see where it led.
Nearly every preconception I had about Frank proved to be wrong. Frank was neatly dressed and awaiting my arrival on his sofa. He was boisterous and radiated a youthful energy, charming and sharp.
Frank participates in Care Team Ministry, a congregation-based program which pairs volunteers from local Catholic and Lutheran churches with members from their faith community who may otherwise be isolated and lonely. Frank's Care Team Member is Michele, a parishioner at St. Thomas Aquinas, who has been a Care Team volunteer since 2021.
Michele, whose mother is in her 90s, felt moved to volunteer for Care Team Ministry knowing how isolating life can be for seniors. She explained that her personal background makes her a good fit for this type of program as a former fourth-grade teacher and the mother of a son with disabilities.
"You need patience, the gift of gab, and great listening skills," she said. "A lot of seniors are lonely, so just letting them talk sometimes and just being a listening ear is a good thing."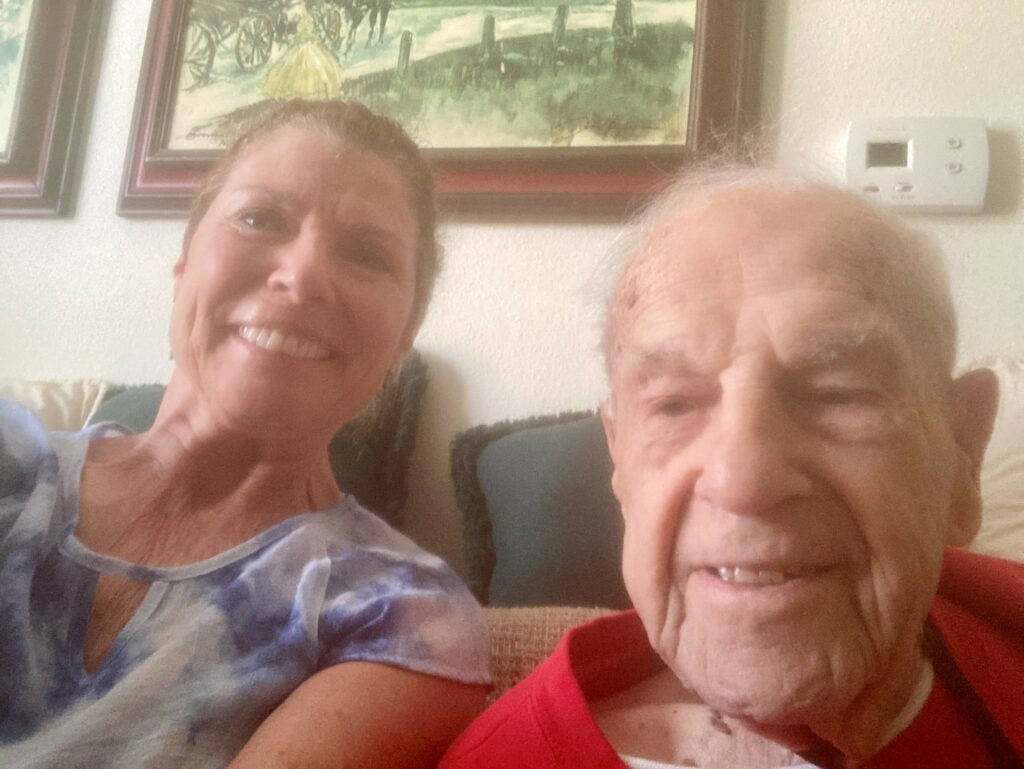 She recounted one visit with Frank where they spent the whole time talking about the Rat Pack. Laughing, Michele said she couldn't even remember who was in the Rat Pack and had to look it up.
Frank's interest in history makes sense, especially with all he has lived through. During World War II, he was stationed in France, Germany, and Switzerland as part of an artillery unit with the United States Army. He married his wife, Delores in 1944, and they had three sons, building a life in Madison and treasuring their Sunday meals with three generations. Frank worked for Oscar Mayer, Bjorksten Research Lab, and Ohio Medical. His greatest joy is spending time with his beautiful family, which includes his sons and their wives, eight grandchildren, 17 great grandchildren, one great-great grandchild, and four nieces and nephews.
For the 45 minutes of my visit with Frank, he drove the conversation, covering topics ranging from his family to his daily life. He was dealing with a significant ringing in his ears that day, which made it difficult for him to hear my questions. But Frank wasn't deterred—when he couldn't hear, he just kept talking about whatever topic came to mind. When he had exhausted all topics, he told me he didn't have anything else to say, and like a gentleman, walked me to the front desk.
I regret not being able to ask what his secret to a long life was, but as we were wrapping up, he got caught in a moment of reflection, saying, "I just enjoy the time I have left. I think my family is terrific. I'm thankful."
He then pointed heavenward with a knowing smile, crediting God with his abundant blessings. Perhaps Frank shared the secret to a long life, after all—a grateful heart, a strong faith, and people to love.