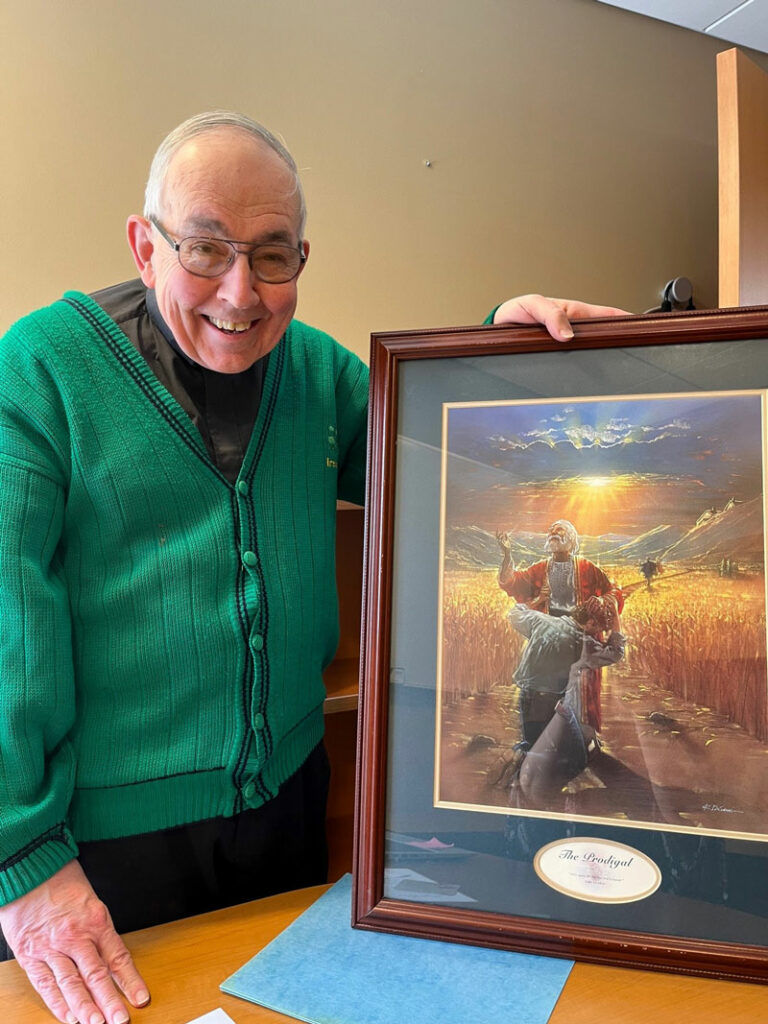 MADISON – The story of the prodigal son is arguably one of the most well-known and well-loved parables. The parable tells the story of a father and his two sons. One son is given a great inheritance and leaves his family to spend the money frivolously. Meanwhile, the other son stays and diligently works for his father. When his fortune runs out and he finds himself living in poverty, the younger son returns to his father, who welcomes him with open arms.
It's easy to see why this story is so beloved—it offers a positive message to anyone who has made decisions they regret. It illustrates that, like the father in the story, God is merciful and loves us, even when we stumble. This central message is the reason Fr. Mick Moon chose to share this parable with a group of individuals receiving treatment for substance use disorder during his first spirituality group session at 5 Door Recovery in August 2022. For individuals who may be at their lowest point and grappling with the mix of emotions and challenges that are part of the journey through addiction and recovery, the story of the prodigal son and the message that it's never too late to return to God can be a source of hope.
Fr. Mick Moon is a retired Catholic priest, who also spent many years working as a social worker. After earning his master's degree in social work from Rutgers University in New Jersey, Fr. Moon worked in Milwaukee, Wisconsin and then Hereford, Texas before joining Catholic Charities of Madison, where he worked in the family counseling program in Janesville from 1990-1997. Fr. Moon then went back to the seminary in the fall of 1997. After being ordained in 2002, he served as the parish priest in St. Bernard in Middleton, Holy Redeemer in downtown Madison, St. Joseph in Madison, St. Rose of Lima in Brodhead, St. Patrick in Albany, and St. Francis of Assisi in Belleville. He retired in July 2021.
Fr. Moon's ministry is a relatively new addition to the 5 Door programming. Though it had long been a goal to add a voluntary faith-based group at 5 Door, plans were stalled by COVID-19 and the accompanying restrictions on visitors. Fortunately, these restrictions eased, and last fall, Fr. Moon was able to start his group sessions. Twice per month, he draws from his lifetime of experience as a social worker and Catholic priest to provide spiritual guidance and support for those who choose to attend his sessions.
While the sessions are completely voluntary for individuals receiving treatment at 5 Door, Mary Haberman-Laesch, the program director of 5 Door, reports that the sessions are popular, explaining that recovery tends to be a time of great spiritual exploration.
Fr. Moon's sessions start with introductions and a prayer, followed by any spirituality or faith-related questions. The group uses the Life Recovery Bible, which is a Bible that incorporates the 12-step recovery system and includes recovery-specific notes and reflections. Often, Fr. Moon comes prepared with a theme for the session and shares two or three Scripture passages that relate to the theme. But mostly, the sessions are an opportunity for participants to open up about their individual journeys. "There's a very good degree of personal sharing that goes on in our meetings. Most are grateful for the support that people attending give to each other," Fr. Moon explained.
When people complete the 5 Door treatment program, Fr. Moon gives them an "angel coin," which is a coin that has an imprint of an angel on it, and which he hopes will convey that the Lord is watching over them in a protective way. "In all honesty, the fact that some of these people are still alive, they are walking miracles in that sense alone, for all the things they have been through or put themselves through. I like to make sure that when they are departing the program for having completed it [they know] that they have made a serious investment in turning their lives around and that God is there to offer his protection and growth."
If participants walk away with just one thing, Fr. Moon would like that to be a message of hope for a better future. Perhaps this message is best summed up by a Scripture passage from Jeremiah 29:11 that Fr. Moon often refers to in his sessions: "For I know the plans I have for you, declares the Lord, plans to prosper you and not to harm you, plans to give you hope and a future."
"They are going to be facing a lot of challenges as soon as they finish the program and walk out that door, but hopefully they know they are better equipped and that God loves them," said Fr. Moon.