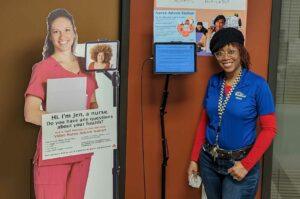 Earlier this year, Catholic Charities of Madison partnered with Catholic Charities USA (CCUSA) to install Nurse Disrupted at The Beacon as part of CCUSA's focus on expanding healthcare access through its "Healthy Housing" initiative. Nurse Disrupted offers easy-to-use, on-demand virtual nursing to the individuals who visit The Beacon each day, helping to eliminate the barriers to healthcare that often exist for people experiencing homelessness and poverty.
In addition to providing medical advice and nursing services, Nurse Disrupted has been an integral part of the ongoing management of COVID infections among guests at The Beacon. Since the closing of the vulnerable populations hotel last fall, The Beacon is now required to handle COVID testing for its guests. To help protect staff members from COVID, guests do their own nasal swabs, with supervision from nursing professionals via Nurse Disrupted so they can be sure the tests are done correctly, and the results are reliable.
The Beacon is one of three local shelters that are all piloting Nurse Disrupted with the homeless population, and the first CCUSA-affiliated location in the country to have a Nurse Disrupted kiosk. Porchlight and Salvation Army are the other two shelters. Catholic Charities is grateful for the opportunity to offer this service and looks forward to advancing better health outcomes for our neighbors experiencing homelessness through this service.