Animal scientist and activist Temple Grandin said, "Animals make us human."  5 Door Recovery uses animal-assisted therapy to enhance the treatment experience and help residents reconnect with their own humanity.
Animal-assisted therapy is a growing field that uses dogs or other animals to help people recover from or better cope with health problems, such as heart disease, cancer and mental health disorders.
Research has shown that animal-assisted therapy lowers blood pressure and reduces anxiety and stress by lowering the level of cortisol, a hormone associated with stress, in the body and increasing serotonin, a brain chemical associated with well-being. Animal assisted therapy also helps release endorphins that influence perceptions of pain or stress. They can decrease feelings of isolation, increase communication, and improve focus and attention for better concentration and heightened social awareness.
Trained and certified therapy dogs are usually present during two or three groups each week.  Residents are not required to interact with the dogs, but may do so if they choose.
MEET THE THERAPY DOGS AT 5 DOOR RECOVERY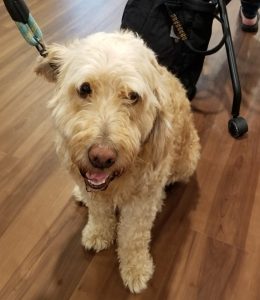 Buddy: Buddy is a miniature goldendoodle, and he has been doing pet therapy since he was 1. He is now 10 years old!  He and his handler, Jane, work with the Alliance of Therapy Dogs. When he is around people, he wants to be noticed and is Mr. Friendly. And if there is a ball or a stick around, he loves to retrieve. Buddy hangs out with a pack of therapy dogs and likes to go hiking in the woods with their handlers.

Dublin and Yahtzee: Dublin and Yahtzee with their handler, Wendy Kuzma, have been working at 5 Door Recovery for over a two years.
Both Dublin and Yahtzee are yellow Labrador retrievers. Dublin is certified by the Alliance for Therapy Dogs.  He was being trained by Occupaws as a service dog but was better suited for therapy work. He takes his job seriously, but when at home loves to lounge around or carry shoes and boots in his mouth. Yahtzee is certified by Pet Partners, which is affiliated with Dogs on Call. He is happiest when he laying on the couch next to someone.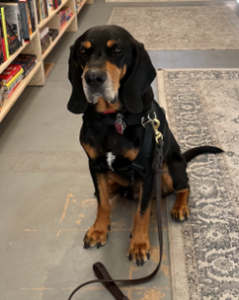 Teddy: Teddy, a Black and Tan Coonhound, and Sue, are a certified Therapy Dog Team with the Alliance of Therapy Dogs.  Teddy is a rescue dog from Texas and has been in his new home for over two years. Teddy is a sweet, gentle and calm dog who is content to lie down and wait to be petted.  At home, Teddy's favorite pastime is to be outside watching for chipmunks and squirrels.