Apartments.com is the leading online apartment listing website, offering renters access to information on more than 1,000,000 available units for rent. Apartments.com is supported by the industry's largest professional research team, which has visited and photographed over 400,000 properties nationwide. Housing Navigation Services (HNS) recommends this site for its large amount of listings, filtering options, photos, 3D models (when available) long detailed descriptions, Amenities List, and Reviews. This needs to be the first resource you use.
To find housing on Apartments.com
Get to a computer with internet and go to http://www.apartments.com
You should get the screen shown as an image below on your screen (should list your city)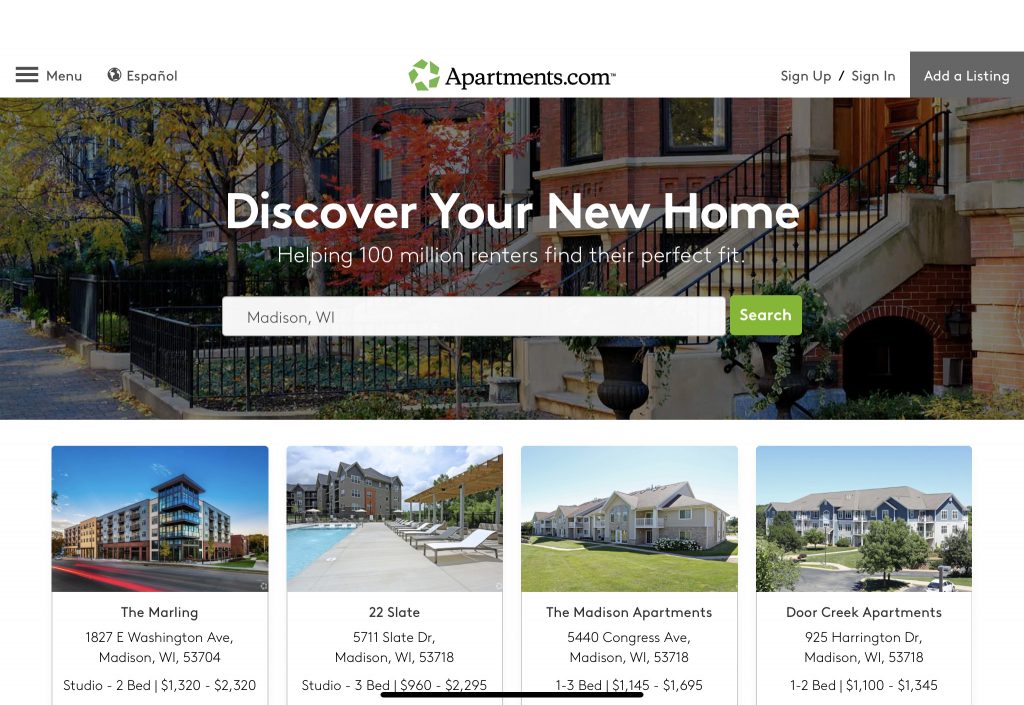 If you want to search for housing only in the city listed, hit the search button. Additionally, if you want to search in a different city or search in your whole country, type in the search bar.
For example here at HNS we will search for Dane County, Wisconsin housing. Your search should render results similar to these: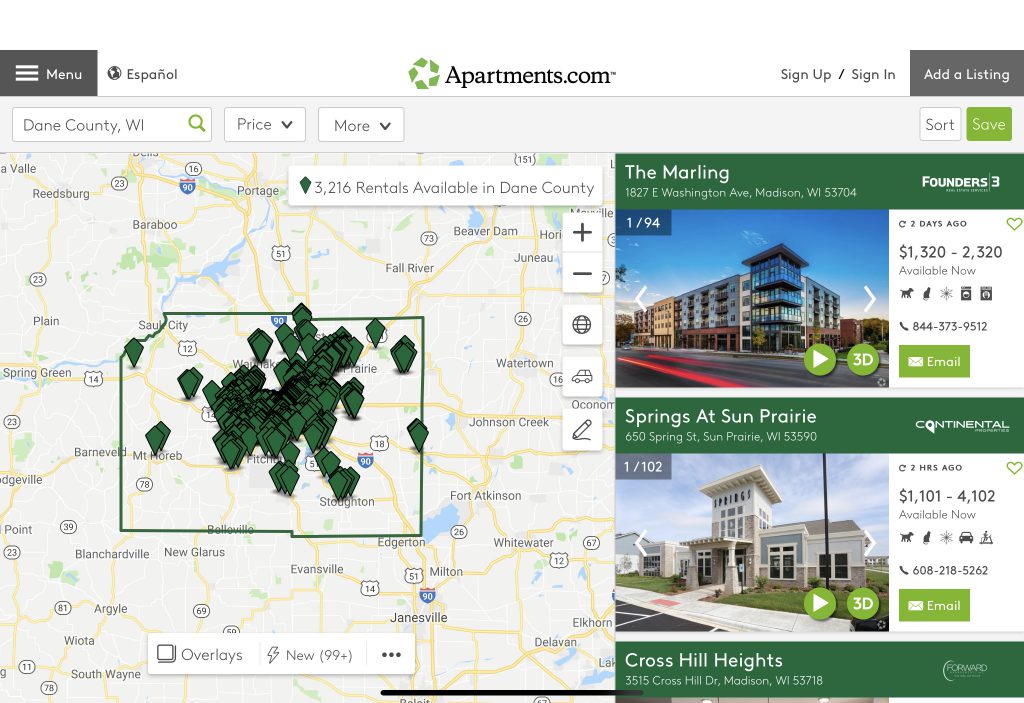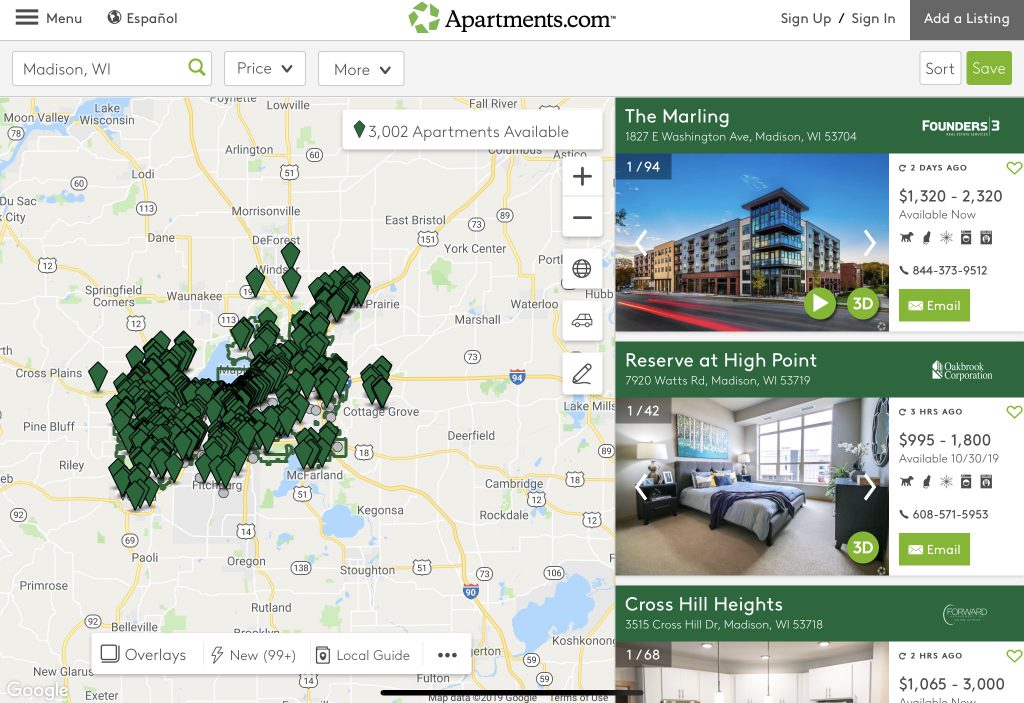 You are now able to filter your results by price when selecting the drop-down menu labeled price. Next, enter the maximum price you want to search for in that search tool and hit enter/return
You can adjust/filter the number of bedrooms, type of housing, number of bathrooms, amenities, square feet, and more by selecting the drop-down menu labeled more. This search functionality is helpful when attempting to locate specific criteria within a renting opportunity.
Here's an image of studios/1 bedrooms price at the Fair Market Race of $776.00 or less in Dane County.
From here you can begin by scrolling up and down on the list to the right. You can also sort by price by selecting low to high. However, we recommend not doing that since the system offers quality results and reliable landlords. These reliable results are filtered through the page numbers in order to get to the next page of listings. Once you identify an apartment you'd like to view, select the green shape on the map.
Here's an example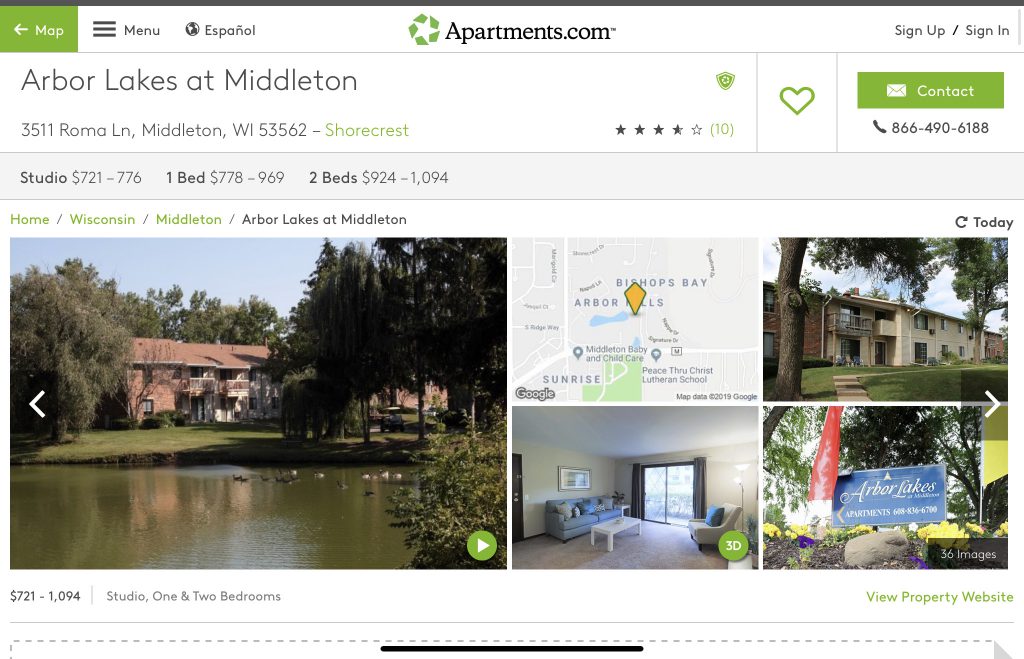 Right off the bat, you will see the property name, price, phone, and address of the place. Also listed will be an email button. You also will very likely see images of the building.
In the image above this apartment, the Play button offers a video of the apartment location, including a 3D tour of the rental unit. (Note, only certain listings showcase a 3D option)
These images are captured below: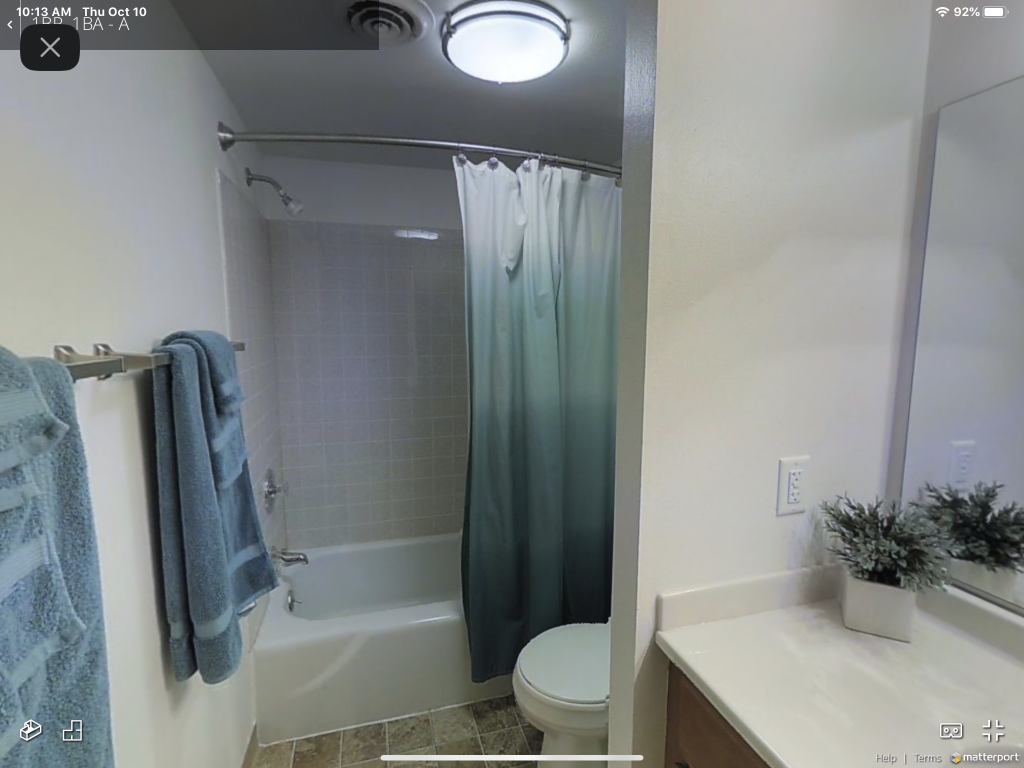 Thereafter, once returning to the page you are able to scroll down and gather information about the listing. This information includes the number of bedrooms, square feet, availability date, expenses and utilities, and various additional property searchables.
One last thing to look out for is a scam warning listing on the top of the page on the right-hand side.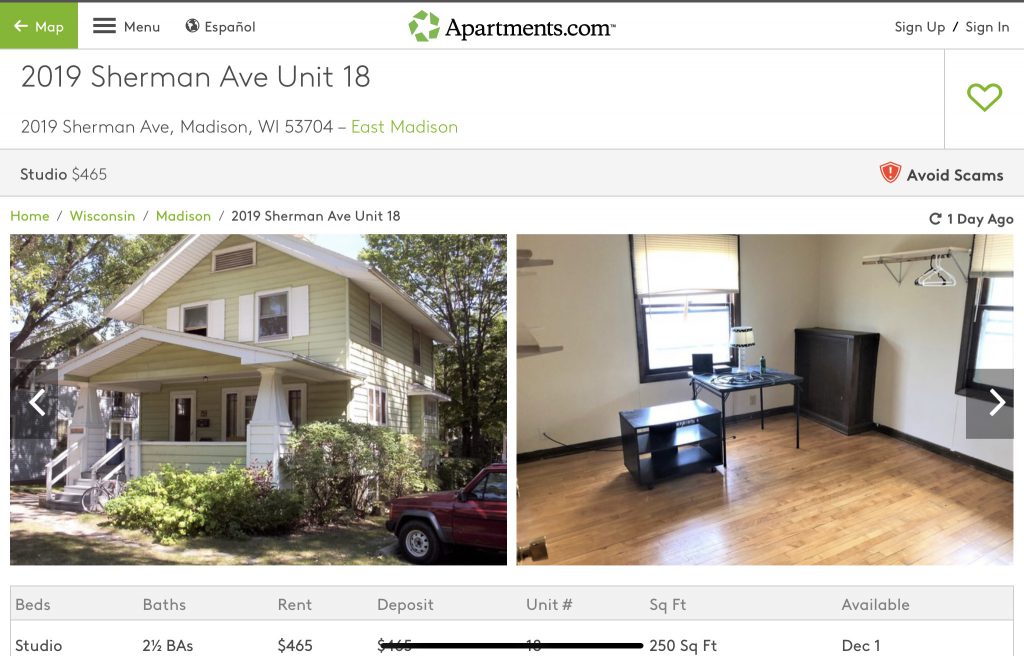 If the listing indicates Avoid Scams, the listing may be legit and viable for rental housing. However, the indication serves as a warning that the potential of being a scam is higher.
Apartments have mobile appshttps://apps.apple.com/us/app/apartments-com-rentals/id319836632 for phones and tablets. For iPhones and iPads
Fair Use Statement
This website may contain copyrighted material, the use of which has not been specifically authorized by the copyright holders. The material is made available on this website as a way to advance research, training, and education related to housing searches, among other related subjects. Through context, critical, and educational framing HNS creates a transformative use of copyrighted media. The material is presented for entirely non-profit educational purposes. There is no reason to believe that the featured media will in any way negatively affect the market value of copyrighted works.
We do not support any actions in which the materials on this site are used for purposes that extend beyond fair use.